As a rule, we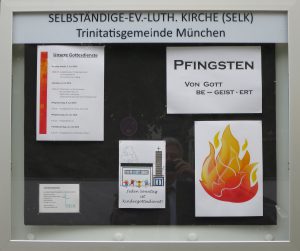 celebrate our services in liturgical form. In doing so, the congregation is actively involved through its participation in the worship celebration. Pastors, readers, organists, choristers, sometimes ministrants and all church attendants contribute their own part to the success of a worthy and fortifying worship.
Martin Luther did not wish to create a new church. Out of this tradition, full worship with a sermon and the celebration of Holy Communion (or Eucharist, Greek = thanksgiving) is celebrated often and in the form of the Lutheran Mass. Thus, our worship emphasizes the communion of the Western Church in a confessional Lutheran manner.
Children's service is celebrated every Sunday and on church holidays parallel to the adult service (beginning just before the sermon).
Our services  on Sundays and church holidays usually begin at 9:30 a.m. (on certain Sundays at 10:30 a.m. where indicated).
Second Sunday of Easter (Whit Sunday), 19 April 2020
9:30 am Divine Service of the Word (Pastoral Deacon W. Wiener)
Third Sunday of Easter, 26 April 2020
9:30 am Divine Service with Holy Communion (musical Mass Ordinary in latin by Casciolini), followed by a sermon discussion.
Saturday

, 2 May 2020 Confirmation

10:00 am  Festive Service for Confirmation with Holy Communion
Fourth Sunday of Easter (Jubilate), 3 May 2020
10:30 am Service of thanks on the occasion of the Confirmation
Fifth Sunday of Easter (Cantate), 10 May 2020
9:30 am Divine Service of the Word