As a rule, we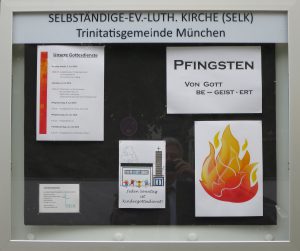 celebrate our services in liturgical form. In doing so, the congregation is actively involved through its participation in the worship celebration. Pastors, readers, organists, choristers, sometimes ministrants and all church attendants contribute their own part to the success of a worthy and fortifying worship.
Martin Luther did not wish to create a new church. Out of this tradition, full worship with a sermon and the celebration of Holy Communion (or Eucharist, Greek = thanksgiving) is celebrated often and in the form of the Lutheran Mass. Thus, our worship emphasizes the communion of the Western Church in a confessional Lutheran manner.
---
Corona regulations for church services have been lifted. You may wear a mask if you prefer but it is no longer required and it is not necessary to register for services.
The seating area at the back near the entrance to the sanctuary will be reserved for people who still wish to wear masks and keep a greater distance to people not wearing masks. 
2nd Sunday in Advent, 4 December 2022
10:00 am Divine Service with Holy Communion (children's service)
3rd Sunday in Advenet, 11 December 2022
-Congregational Advent Celebration-
2:00 pm Divine Service with Holy Communion and first communion of the confirmands (children's service)
followed by Advent celebration – coffee hour, advent singing.