As a rule, we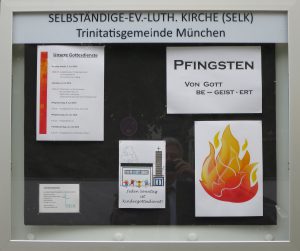 celebrate our services in liturgical form. In doing so, the congregation is actively involved through its participation in the worship celebration. Pastors, readers, organists, choristers, sometimes ministrants and all church attendants contribute their own part to the success of a worthy and fortifying worship.
Martin Luther did not wish to create a new church. Out of this tradition, full worship with a sermon and the celebration of Holy Communion (or Eucharist, Greek = thanksgiving) is celebrated often and in the form of the Lutheran Mass. Thus, our worship emphasizes the communion of the Western Church in a confessional Lutheran manner.
Children's service is celebrated every Sunday and on church holidays parallel to the adult service (beginning just before the sermon).
Our services  on Sundays and church holidays usually begin at 9:30 a.m. (on certain Sundays at 10:30 a.m. where indicated).
In the coming services that we can celebrate together again in the church, following special rules much be followed:
Masks must be worn upon entering and leaving the church building and during the services.  We have masks available in the foyer should you not have one with you,

No group formations in the sanctuary or fellowship hall before and after church,

Keep a distance of at least 2 meters between persons of different housholds,

Please disinfect your hands before entering the santuary for the service (disinfectant is available in the foyer).
Due to the distancing during the services, the number of people in each service is limited. We are therefore offering two services each Sunday (9:30 am and 11:00 am). We ask that you register for the desired service by e-mail or telephone by Friday or latest Saturday afternoon, so that we can plan the distance between people in the sanctuary and so that we hopefully will not need to send anyone away.
Holy Communion will be celebrated in every service . 
4th Sunday after Trinity, 5 July 2020
9:30 am Divine Service with Holy Communion
11:00 am Family Service with Holy Communion
5th Sunday after Trinity, 12 July 2020
9:30 am Divine Service with Holy Communion
11:00 am Family Service with Holy Communion
6th Sunday after Trinity, 19 July 2020
9:30 am Divine Service with Holy Communion
11:00 am Family Service with Holy Communion
7th Sunday after Trinity, 26 July 2020
9:30 am Divine Service with Holy Communion
11:00 am Family Service with Holy Communion
8th Sunday after Trinity, 2 August 2020
9:30 am Divine Service with Holy Communion
11:00 am Family Service with Holy Communion
9th Sunday after Trinity, 9 August 2020
9:30 am Divine Service with Holy Communion
11:00 am Family Service with Holy Communion