As a rule, we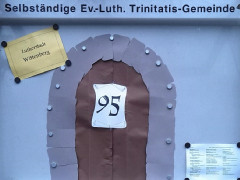 celebrate our services in liturgical form. In doing so, the congregation is actively involved through its participation in the worship celebration. Pastors, readers, organists, choristers, sometimes ministrants and all church attendants contribute their own part to the success of a worthy and fortifying worship.
Martin Luther did not wish to create a new church. Out of this tradition, full worship with sermon and celebration of Holy Communion (or Eucharist, Greek = thanksgiving) is celebrated often and in the form of the Lutheran Mass. Thus, our worship is also a link between the large denominations and tries to emphasize the communion of the Western Church in a consciously Lutheran confession.
Children's service is celebrated every Sunday and on church holidays parallel to the adult service (beginning just before the sermon).
Our services  on Sundays and church holidays usually begin at 9:30 a.m. (on certain Sundays at 10:30 a.m. where indicated).
As of May 30th, we are back in our own new church in the Lustheimstrasse 20!
1st Sunday after Trinity, 23 June 2019
9:30 a.m. Divine Service with Holy Communion, followed by a sermon discussion in the fellowship hall.
2nd Sunday after Trinity, 30 June 2019
9:30 a.m. Festive Service with Holy Communion (first communion for the confirmands)
3rd Sunday after Trinity, 7 July 2019
9:30 a.m. Divine Service of the Word
4th Sunday after Trinity, 14 July 2019
9:30 a.m. Divine Service with Holy Communion
5th Sunday after Trinity, 21 July 2019
10:30 a.m. Divine Service with Holy Communion, followed by the summer potluck
6th Sunday after Trinity, 28 July 2019
9:30 a.m. Divine Service of the Word, followed by a sermon discussion
7th Sunday after Trinity, 4 August 2019
9:30 a.m. Divine Service with Holy Communion
8th Sunday after Trinity, 11 August 2019
9:30 a.m. Divine Service of the Word